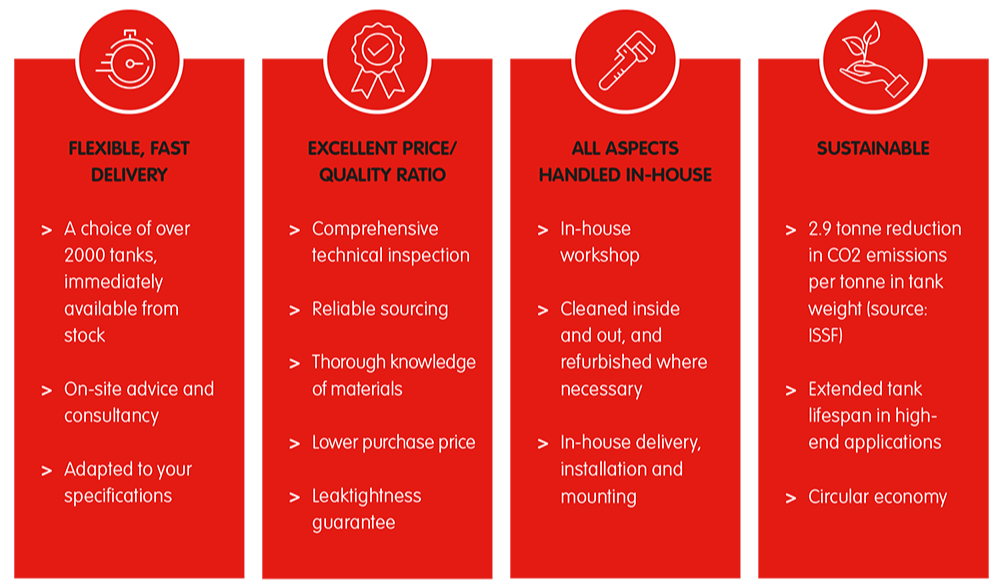 Refurbished tanks are second-hand tanks that have been inspected, cleaned and – where necessary – repaired. All our tanks must undergo a thorough technical inspection and quality check before they can be sold as 'refurbished'. Older products were generally produced to be more durable than their modern counterparts, allowing us to offer you a water-tight quality guarantee on all refurbished tanks.
Why opt for refurbished?
1. A wide range of products, immediately available from stock
We have a stock of 2000 storage and production tanks and can offer custom solutions for every imaginable sector thanks to our extensive range. We sell tanks in various sizes for a range of applications. We will also ensure that your refurbished production or storage tank is up and running at your location as quickly as possible.
2. Quality at competitive prices
With a reliable network, thorough knowledge of materials and intensive inspection and assessment procedures, we can guarantee high-quality products at competitive prices which are always lower than the original price.
3. BTS Tank Solutions offers a full-service solution
From custom modifications at our own workshop to transportation and professional installation services, BTS does it all.
4. Emphasise your sustainable, green image
Contribute to a green, sustainable world. Reuse is a high-end solution aimed at retaining the value of materials over a longer period, and is one of the key pillars of the circular economy. In addition to reducing the amount of raw materials used in the production process, this also helps reduce greenhouse gas emissions, as it takes less energy to reuse materials than produce them from scratch.
Think refurbished and help BTS Tank Solutions avoid 2.9 tonnes in CO2 emissions per tonne in tank weight (source: ISSF)